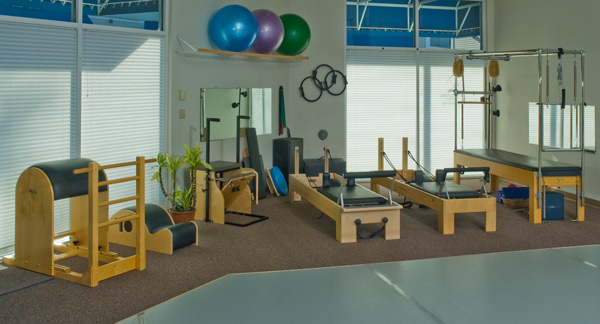 What is Pilates?
The Pilates Method, developed in the 1920's by Joseph Pilates, is a method of exercise designed to stretch, strengthen, and balance the entire body. The foundation of the Pilates Method is based on its principles: Breath, Centering, Concentration, Control, Precision and Flowing Movement.
Practiced faithfully, Pilates yields numerous benefits. Through deep, healthy breathing, Pilates practitioners experience increased lung capacity and circulation. With systematic practice of Pilates specific exercises, clients experience greater strength and flexibility, particularly of the abdomen and back muscles, improved coordination – both muscular and mental, better posture and balance, and increased core strength. Additionally, bone density and joint health improve.
The Pilates Method has proven itself invaluable: as a means of physical fitness, as a key component to professional sports training regimen, and for physical rehabilitation of all kinds. By practicing Pilates, the body will learn to do that which is most efficient – the least effort with the greatest result.
Pilates Bodies Studio offers group Pilates mat classes, as well as private and semi-private sessions on the highly specialized equipment originally designed by Joseph Pilates.
In the Pilates industry, the consumer has many choices. At Pilates Bodies Studio, we set high standards for our teachers. We believe that in order to maintain the integrity of the Pilates Method, the Pilates teacher should have completed, at a minimum, a 450-hour comprehensive teacher-training program. The comprehensive course of study includes Lecture/Workshop Participation; Personal Practice; Observation & Mentoring; and Practice Teaching. Additionally, continuing education in the field is required. By setting these high standards, our clients can be assured of safe and effective individualized programs.
Pilates Bodies Studio is proud to staff only comprehensively trained teachers.